PlayStation 4
https://screenrant.com/god-war-best-ps4-games-all-time/
Image credit: screenrant.com
Brief History
The Sony's PlayStation 3 production had an issue that placed Sony almost a year behind the Microsoft's Xbox 360 which had already made close to a 10 million sales. To avoid repeating the same mistake, Sony started designing the PlayStation 4 game console as early as 2008.
In 2012, Sony worked cooperated with software developer Bungie to offer advanced input system on the controller and improves the control for shooting games. It shipped the "Orbis" development Kits comprising a changed PC running the AMD accelerated processing unit chipset.
On February 2013, Sony hosted the PlayStation meeting 2013 in New York City to cover the "future of PlayStation". At this event, Sony announced the PlayStation 4. They gave a full review of the new video game console and showed off actual footage of some games in development and technical demonstrations. Sony unveiled the PlayStation 4 at the June Electronic Entertainment Expo 2013 with a retail price of $399 (NA), €399 (Europe), and £349 (UK).
At the Gamescom press event in November, Sony revealed the release date for the Americas, Europe, and Australia, and other necessary information. November 15, 2013, marked a new dawn for the Sony after they released the console in the United States and America, followed by the release of November 29, 2013. Sony launched the PS4 in more European, Asian and South American countries before the end of 2013, and in Japan on February 22, 2014, at ¥39,980.
Sony had a deal with the Chinese government the same year to sell its product in the mainland China, the first of its kind. Kazuo Hirai, a chief executive officer of Sony, said in May: "The Chinese market, is a perfect market size for game products… I think we'll be successful just as we were at every other part of the world."
The price of the PS4 in Japan dropped to ¥34,980 in September 2015. There were similar drops in other Southeast Asia markets.
On October 9, 2015, the first official sub £300 PS4, the "Uncharted Nathan Drake Collection 500GB" publicized in the UK, including the 1TB £329.99 version. Still the same day, the PS4 official price reduced by $50 to $349.99 (US) and $20 to $429.99 (Canada). There was still a reduction to €349.99/£299.99 in Europe in the same month
The CEO, Sony Interactive Entertainment, John Kodera, during his presentation to investors on May 2018 stated that the Sony PlayStation 4 is at the end of its life cycle and the company should cut year-over-year hardware sales. Also, Sony should counter the likely decline by concentrating on strengthening user engagement and investing in new party titles and online services for the PlayStation 4. He also added, "We will use the next three years to prepare the next step, to crouch down so we can jump higher in future".
Hardware
There's a lot of similarities found in the PlayStation 4 and Personal Computers and Sony made enough modifications since game studios will develop games for the PS4 to cut cost and improve convenience.
The Advanced Micro Devices cooperated with the Sony to build an Accelerated Processing Unit, the best of its kind and by far the most powerful APU available in the market. It comprises a Central Processing Unit (CPU) and Graphic Processing Unit (GPU) including a memory controller and video decoder.
To make a significant modification, the PlayStation 4 CPU had two Quad-core Jaguar modules (i.e. 8 x86-64 cores). The 18 compute units in the GPU allows a theoretical max performance of 1.84 teraflops.
Sony designed the systems 8 GB of GDDR5 memory to run at a peak of 2.75 GHz and 176 GB/s as the maximum memory bandwidth. The RAM dusts that of the PlayStation 3 by over 16 times and will give a considerable longevity.
Other tasks associated with downloading, social gameplay and uploading are handled by the inbuilt secondary chips. These chipsets run the related tasks perfectly even while you are away or the system is in sleep mode.
The PlayStation 4 supports High Dynamic Range (HDR) color profile, with the console comprising an audio module which supports in-game chat and many audio games for use in-games.
There's a significant improvement in the read-only optical drive which reads Blu-ray Discs at a speed three times that of the PS3 and other predecessors.
Even while the game is not accessing the optical drive, the console's hardware decompression module buffers unread data and boosts the reading speed. The PS4 plays multimedia in the 4k but doesn't play games in the format.
The console features a 500-gigabyte storage hard drive and could extend up to 8TB with the user System software released on March 9, 2017.
The PlayStation 4 includes an auxiliary port for connection to a motion detection digital camera, the PlayStation Camera (this was first introduced in the PS3). Other features include the Wi-Fi, Bluetooth, Ethernet Connectivity, two USB ports, a mono Headset for the Dualshock 4, and HDMI TV and optical S/PDIF audio/video output options. The console doesn't feature analog audio/video output.
The PlayStation 4 uses a Dualshock 4 controller which still maintains similar design to th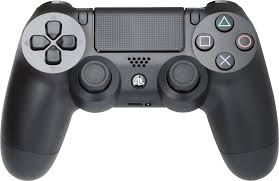 e preceding series, but with better features and designs. It now features the Xbox 360 controller's concave design on the cap of the analog sticks. There was a finishing touch on the trigger and shoulder button, and the thickness of the handgrips increased and given micro-texturing for a better feel. The D-pad button has a better feel on hand including the steep downward angle which provides a resting place in the center for your thumb.
The DualShock 4 now features a touchpad which can detect two concurrent touch presses and also acts as a button. The new "Option" and "Share" button allows the access to social features such as video recording, streaming, and screenshot but at the expense of the start and select button. It uses micro USB connectors for the power, but with a standby non-detachable and rechargeable lithium battery. The DualShock 4 has an internal speaker including a headphone jack and headset earbuds for the console.
There are other changes in the controller's motion tracking system which includes: a changed and more sensitive tracking system than in the earlier controllers, an LED light bar in the front of the controller. The PlayStation Camera can track its motion and used for feedback and visual effect within games.
The PS4 console doesn't support the PS3 stations even though PS4 and DualShock still use Bluetooth for wireless connectivity. But there're other alternatives available which include the PlayStation Move motion controllers compatible with the PlayStation Camera.
Later in 2016 a new model of the DualShock launched together with the Slim and Pro. There a great similarity except for a stripe at the top for the light bar's LED.
| | |
| --- | --- |
| Product name | Wireless Controller (DUALSHOCK 4) |
| Product code | CUH-ZCT2 series |
| External Dimensions | 100MM x 161MM x 57MM (Depth x WIDTH x HeIGHT) |
|   | |
|   | |
| Weight | Approx.210g |
| Keys / Switches | PS button, SHARE button, Action buttons (Triangle, Circle, Cross, Square), OPTIONS button, Directional buttons, Right stick / R3 button, Touch Pad Button (Up/Down/Left/Right), R1/L1/R2/L2 buttons, Left stick / L3 button |
| TouchPad | 2 Point Touch Pad, Capacitive Type, Click Mechanism |
| Motion Sensor | Six-axis motion sensor system (three-axis accelerometer, three-axis gyroscope) |
Just as for the Kinect on Xbox, the PlayStation Camera Plays can act as the motion sensor and camera for PS4. It has two cameras which could be used together for depth sensing, the two can also act independently for generating video image and tracking. It has a killing 1280×800 mega-pixel lenses having a f/2.0 with an 85° field of view and 30 cm focusing distance.
The PlayStation Camera can allow multiple users to log-on to the system via face detection, and the four-channel microphone way reduces background noise and allows voice commands.
The visual reality comprises a 1080p display panel headset for the PS4 and LED lights on the headset used by PlayStation Camera for motion tracking. Also, it has a control box that processes 3D audio effects and video output to the external display. Users can use the PlayStation VR with PlayStation Move for motion control.
Software and Services
PlayStation 4 system software
The PlayStation 4 uses the "Orbis OS" operating system, based upon a changed FreeBSD 9.
The PS4 features a WebKit-based browser same as Google Chrome and Safari which makes it more compatible in HTML5 compliance testing, unlike the predecessor's NetFront browser. There isn't any need for an internet connection for the Console.
The "PlayStation Dynamic Menu" is a new modifiable interface which introduced by the console, it features varieties of color scheme, displays players profile, notifications, recent activity and lot more for unlocked trophies; it's compatible for multiple users with their pass-codes and each of them can hide or share their personal details, leaving their clients with their nicknames for cases when anonymity is needed.
The PlayStation Network allows you to link Facebook profiles so making it easier to recognize friends.
Browser or managing party chat during gameplay is possible because of the Multitasking Feature, so you can switch between applications by double-tapping the PS button. Other services from third-party vendors are accessible through the interface, including the "what's new?" activity feed for notifications and update.
There's still a lot with the PlayStation Camera or Microphone. This hardware enables you to use voice inputs for control. Actions such as screenshots, starting a game and saving videos can command with the voice input. There are lots of commands, but you could just say PlayStation to start voice control and "All Commands" to display all commands.
Blu-ray, DVD playback, and 3D functionality are compatible with the PlayStation 4 software. Custom music and video files can be played from USB drives and it does not support DLNA servers using the media player app.
The PlayStation Network is only accessible to a user, depending on the PSN services subscription; PlayStation Plus subscription, PlayStation Store, PlayStation Music and PlayStation Video subscription service. The PlayStation Music is powered by the Spotify and a user could rent or buy TV shows and films Video à la carte with the PlayStation Video.
In late November 2014, Sony tested the PlayStation Vue, a U.S-exclusive cloud-based television-on-demand planning service to expand over the console's lifespan.
The PlayStation Plus membership is a criterion to access multiplayer in most games but doesn't apply to subscription-based and free-to-play titles; this feature wasn't available the PS3.
Second Screen and Remote Play
The play station App allows Smartphones and tablets to interact with the PS4 as a second Screen and can wake the console from sleeping mode. Consumers can buy PS4 titles and remotely downloaded from the console from the console. This second screen allows the user to watch live streams of other games and view in-game maps while playing games; this feature is available for a Sony Xperia smartphone, Tablet, or the PlayStation Vita and even more.
Supported games can be played remotely from anywhere at any time; Sony has ambitions to make it the same for all games.
In April 2016, an update was released so the Remote Play feature is available on Apple OS X (OS X Yosemite and OS X EI Captain) and on Microsoft Windows PCs (Windows 8.1 and Windows 10).
The resolution options available for the remote Play includes 360p, 540p, 720p and 1080 exclusively for the PS4 Pro; the frame option of 30-60 FPS. The DualShock 4 can be connected to these devices via USB.
Social Features
The PS4 has improved social functionality, but this feature is prevalent in the console; the feature could still be disabled.
This feature is optional and depends solely on the user's choice and personal interest. Communities include to join a group and launch cooperative games and accomplishments and game clips shared of the members. Gamers can tackle a big multiplayer raid in this communities and the user can socialize with like-minded and skilled friends.
Users can share those amazing moments in a recorded gameplay from the console to other PSN console with other PSN users or supported social networking sites with the DualShock 4 controller. The "share" button allows the user to browse through the last 60 minutes of recorded gameplay to select the perfect moment to screenshot or video clip for sharing. These screenshots and clips can be copied to a USB flash drive and uploaded to the desired network or website.
Other video editing apps such as the ShareFactory can be used to cut and assemble the media and add custom music or voice commentary with green screen effects.
Preceding updates features options for picture-in-picture, creating an animated GIF, photo collage and lots more.
Live gameplay can be broadcasted via Twitch, DailyMotion, Ustream, Niconico, or YouTube Gaming for communities and friends to view and comment. A user can send the friend a "request to watch" notification to watch the live gameplay when playing through the PS4 interface. Gamers can use a cross-game camera and microphone input to spectate silently.
Users can only use SharePlay an hour at a time and need a PlayStation subscription. Even without owning the copy of a game, users can invite an online friend to join their section via streaming. The Share Play allows the remote user to take control of the game or partake in a cooperative multiplayer as though physically present. This feature plays a useful role when the main gamer is confronted by a potential game-defeating obstacle. Mark Cerny Says "You can even see that your friend is in trouble and reach out through the network to take over the controller and aid them through the difficult part of the game.
Games
The PlayStation 4 Games are not region locked and are downloaded through the PlayStation Store or at retail on Blu-ray Disc. PlayStation Games must be installed to the console so you can sign-on to any PS 4 console at any region to access your entire library. Gamers can play the game once the installation or download reaches a specific point on the console's storage while the rest of the game is installed or downloaded in the background. The updates are downloaded or installed in the background.
Soon, Users will browse titles and stream games through Gaikai to demo them at almost the same time and Sony will be releasing more free-to-play games including War Thunder and PlanetSide 2.
The social features of the PS 4 outstrip that of PlayStation 2 and PlayStation 3 so makes the backward compatibility for these older PlayStation games zero.
Some selected PlayStation 2 games and other portable PlayStation games have been changed to match the high definition and support of the PlayStation 4 features and are now available on PlayStation Store. The PlayStation Now have some selected PS 3 games, available for streaming after subscription.
A month after the release of PlayStation 4 in the United States, Andrew house mentioned that Sony would launch a cloud gaming service for the PlayStation 4. The cloud gaming service was to be launched in North within the third quarter of 2014 and 2015 in Europe.
The PlayStation Now was announced on January 4, 2017, at the Consumer Electronics Show. The PlayStation now was initially designed as a solution to the no-backward compatibility of the console's hardware, to allow users PS 4 users access PS 3 games by individual purchase or subscription.
The United States open Beta on July 31, 2014, and released on January 13, 2015. It's in closed beta in the United Kingdom.
Release
Loads of developers, professionals, and journalists have acknowledged the Sony's architectural enhancement and performance advantage over the Xbox One.
The co-founder of id Software John Carmack commended the design and mentioned that "Sony made a wise engineering decision. Mark Rein of Epic Games acclaimed the architecture of Sony's console system, saying it's "a phenomenal piece of hardware". From the Gearbox software, Randy Pitchford admired the high-speed memory of the console.
The PS4's graphics processing unit outstrips that of the competing models, but it's only Sony's own first-party studios that'll exploit the hardware to give a result that'll outstrip everything Xbox one has to offer. Or else these developers should improve their designing concepts to boost frame rate and output at a higher resolution.
GameSpot acknowledged the price and policies of the PS4 and Sony's as the gamer's choice of the year".
The IGN acknowledged PlayStation 4's upgradable and removable hard drive, with Scott Lowe remarking that the choice of design gave the console another edge over the Xbox One with a built-in hard drive.
IGN compared the PlayStation 4 and the Xbox One and allowing their readers to give their result. The PS4 won back-to-back and awarded the PS4 with their People's Choice Award. With such an enthralling outcome and other considerations, Scott Lowe of the IGN gave it an 8.2 rating out of 10. He acknowledged the DualShock 4 design and social integration features but criticized their underutilizing of the DualShock 4 touchpad and consoles lack of software features.
Kirk Hamilton acknowledged the resolution and display of some games the PS4 such as "Call of Duty Ghosts" and "Assassin's Creed IV" which ran 1080 on the PS4; these two games ran 720p and 900p respectively on the Xbox One.
Sales
| | |
| --- | --- |
| Region | Lifetime hardware sell-through by region |
| United States | 14.2M (July 30, 2016) |
| Japan | 5.0M (July 30, 2017) |
| Germany | 3.2M (July 2016) |
| United Kingdom | 3M (January 31, 2016) |
| France | 2M (January 21, 2016) |
| Spain | 700K (June 17, 2015) |
| South Africa | 50,000 (December 12, 2014) |
| Worldwide | 73.6M (December 31, 2017) |
After the specifications and features publicized by the Sony, the demand for the PS4 was strong. Sony sold one at the North American launch with over a million placements in August 2013.
In the UK, they sold over 250 in less than 48-hour period and 530,000 in the first five weeks; it became the bestselling at launch.
Over 4.2 million PS4 units and 9.7 million software units were sold through by the end of 2013. Roughly 5.3 million PS4 console units were sold in the Western European and North American markets before February 18, 2014. 322,083 consoles were sold within the first two days of release in Japan on February 22, 2014. The sales before April 13, 2014, outstrips 20.5 million.
Sales were so strong that Sony's global sales beat the Nintendo for the first time in eight years.
Surprisingly, over 31 percent of the sales were to customers whom already had an Xbox 360 and Wii and have never owned a PS3. The PlayStation 4 was the bestselling console in the United States for ten consecutive months with over 10 million sold worldwide as of 2014.
On January 4, 2015, Sony was sure of 18.5 million PlayStations completely sold. Over 35 million consoles were sold as of 2015 and the PS4 held a market share of 70 percent within all European countries as of June 2015. The total sell-through reached 40 million as of May 2016.
The last release of 2017 shows that over 70 million consoles and 617.8 million PS4 games have been sold worldwide.
| | | |
| --- | --- | --- |
| Lifetime worldwide hardware sell-through | Lifetime worldwide software sell-through | Tie ratio |
| 2.1M (December 1, 2013) | N/A | N/A |
| 4.2M (December 28, 2013) | 9.7M (December 28, 2013) | 2.31 games/console |
| 5.3M (February 8, 2014) | N/A | N/A |
| 6.0M (March 2, 2014) | 13.7M (March 2, 2014) | 2.28 games/console |
| 7.0M (April 6, 2014) | 20.5M (April 6, 2014) | 2.93 games/console |
| 10.0M (August 10, 2014) | 30M (August 10, 2014) | 3 games/console |
| 14.4M (November 22, 2014) | 64.0M (November 22, 2014) | 4.44 games/console |
| 18.5M (January 4, 2015) | 81.8M (January 4, 2015) | 4.42 games/console |
| 20.2M (March 1, 2015) | N/A | N/A |
| 30.2M (November 22, 2015) | N/A | N/A |
| 35.9M (January 3, 2016) | N/A | N/A |
| 40.0M (May 22, 2016) | 270.9M (May 22, 2016) | 6.77 games/console |
| 50.0M (December 6, 2016) | 369.6M (December 4, 2016) | 7.39 games/console |
| 53.4M (January 1, 2017) | 401.1M (January 1, 2017)[191] | 7.51 games/console |
| 60.4M (June 11, 2017) | 487.8M (June 11, 2017) | 8.08 games/console |
| 70.6M (December 3, 2017) | 617.8M (December 3, 2017) | 8.75 games/console |
| | |
| --- | --- |
| Quarterly | Lifetime |
| 4.5M (Launch – December 31, 2013) | 4.5M (December 31, 2013) |
| 3.0M (January 1, 2014 – March 31, 2014) | 7.5M (March 31, 2014) |
| 2.7M (April 1, 2014 – June 30, 2014) | 10.2M (June 30, 2014) |
| 3.3M (July 1, 2014 – September 30, 2014) | 13.5M (September 30, 2014) |
| 6.4M (October 1, 2014 – December 31, 2014) | 19.9M (December 31, 2014) |
| 2.4M (January 1, 2015 – March 31, 2015) | 22.3M (March 31, 2015) |
| 3.0M (April 1, 2015 – June 30, 2015) | 25.3M (June 30, 2015) |
| 4.0M (July 1, 2015 – September 30, 2015) | 29.3M (September 30, 2015) |
| 8.4M (October 1, 2015 – December 31, 2015) | 37.7M (December 31, 2015) |
| 2.3M (January 1, 2016 – March 31, 2016) | 40.0M (March 31, 2016) |
| 3.5M (April 1, 2016 – June 30, 2016) | 43.5M (June 30, 2016) |
| 3.9M (July 1, 2016 – September 30, 2016) | 47.4M (September 30, 2016) |
| 9.7M (October 1, 2016 – December 31, 2016) | 57.1M (December 31, 2016) |
| 2.9M (January 1, 2017 – March 31, 2017) | 60.0M (March 31, 2017) |
| 3.3M (April 1, 2017 – June 30, 2017) | 63.3M (June 30, 2017) |
| 4.2M (July 1, 2017 – September 30, 2017) | 67.5M (September 30, 2017) |
| 9.0M (October 1, 2017 – December 31, 2017) | 76.5M (December 31, 2017) |
| 2.5M (January 1, 2018 – March 31, 2018) | 79.0M (March 31, 2018) |
Hardware Revisions
Several modifications have been made since the production of the PlayStation 4. These new models have altered various features to give it a distinct look and concept. Nevertheless, each model has variations of Limited edition consoles.
The PlayStation 4 slim is a modification of the original PS4, announced on September 7, 2016, with a model number CUH-2000. It has a rounded body and a matte finish on the top. The audio port was removed and the two USB ports have a larger gap between them. Sony released it on September 15, 2016, with a 500 GB storage but later switched on April 28, 2017, with a new 1 TB version, still maintaining the same price as the PlayStation 4.
The Neo was announced the same day as the PlayStation Slim, September 7, 2016, and launched 10 November 2016. It is an improved and upgraded version of the PlayStation 4.
The Neo improved performance supports a 4K rendering, improved PlayStation VR performance. The 1.8 teraflop of the PlayStation 4 was increased to 4.2 teraflops, a hardware support for checkerboard rendering and an upgraded CPU clock.
There's a lot of modification in the PlayStation 4 pro, this table will compare the PS4 and PS4 Pro.
Product name
PlayStation 4
PlayStation 4 Pro
Product code
CUH-2000 series
CUH-7000 series
Main processor
Single-chip custom processor

CPU: x86-64 AMD "Jaguar", 8 cores

GPU: 1.84 TFLOPS, AMD Radeon™ based graphics engine

Single-chip custom processor

CPU: x86-64 AMD "Jaguar", 8 cores

GPU: 4.20 TFLOPS, AMD Radeon™ based graphics engine

Memory
GDDR5 8GB
GDDR5 8GB
Storage size*
500GB, 1TB
1TB
External dimensions
Approx. 265×39×288 mm (width × height × length)

(excludes largest projection)

Approx. 295×55×327 mm (width × height × length)

(excludes largest projection)

Mass
Approx. 2.1 kg
Approx. 3.3 kg
BD/ DVD drive

(read-only)

BD × 6 CAV

DVD × 8 CAV

BD × 6 CAV

DVD × 8 CAV

Input/ Output
Super-Speed USB (USB

3.1 Gen1) port × 2

AUX port × 1

Super-Speed USB (USB 3.1 Gen.1) port × 3

AUX port × 1

Networking
Ethernet (10BASE-T, 100BASE-TX, 1000BASE-T)×1

IEEE 802.11 a/b/g/n/ac

Bluetooth®v4.0

Ethernet (10BASE-T, 100BASE-TX, 1000BASE-T)×1

IEEE 802.11 a/b/g/n/ac

Bluetooth® 4.0 (LE)

Power
AC 100-240V, 50/60Hz
AC 100-240V, 50/60Hz
Power consumption
Max. 165W
Max. 310W
Operating Temperature
5 ºC – 35ºC
5ºC – 35ºC
AV output
HDMI™ out port (HDR output supported)
HDMI™ out port (supports 4K/HDR)

DIGITAL OUT (OPTICAL) port